ที่ครอบกระปุกน้ำมันเบรกด้านหลัง

กระปุกน้ำมันเบรกของ BMW นั้นอยู่ในตำแหน่งที่เข้าถึงได้ง่ายมาก ทำให้มีความเสี่ยงที่จะเกิดความเสียหายหรือมีคนมาแอบเล่น ที่ครอบกระปุกน้ำมันเบรก Touratech ผลิตจากอะลูมิเนียมตัดขึ้นรูปด้วยเลเซอร์ ช่วยป้องกันความเสียหายและการเปิดฝากระปุกโดยคนที่ไม่เกี่ยวข้องได้อย่างมีประสิทธิภาพ โดยที่คุณยังคงสามารถตรวจเช็คระดับน้ำมันเบรกได้อย่างสะดวก การติดตั้งที่ครอบนี้สามารถทำได้ง่ายๆ เพียงแค่ขันโบลท์เข้ากับจุดยึดเดิมบนตัวรถ

On the BMW the brake fluid reservoir is all too easily accessible, putting it at risk of damage or tampering. Made from laser-cut aluminium, Touratech's brake fluid reservoir guard effectively prevents damage and undesired access to the reservoir lid, yet you can still easily see the fluid level. The guard simply bolts onto the existing mounting point.
---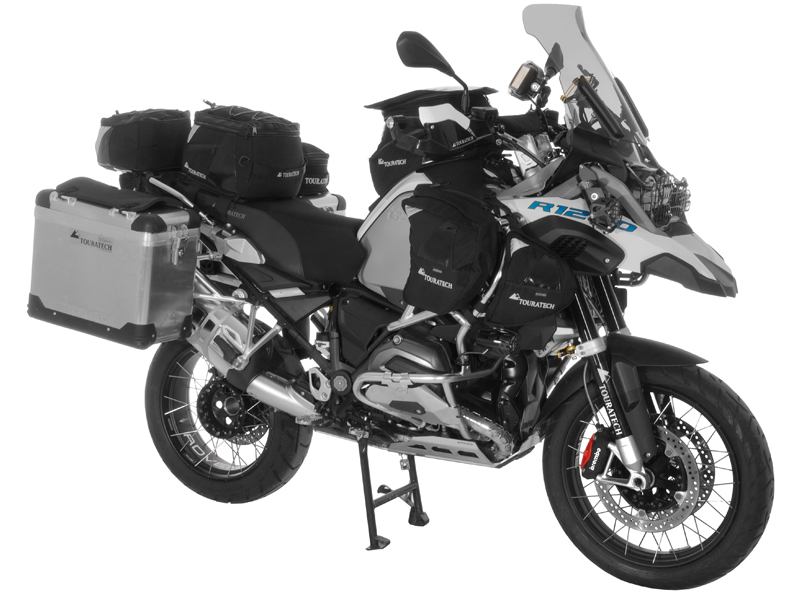 BMW R1200GS (Water Cooled) Rear Brake Fluid Reservoir Guard - Brake fluid is the life-blood of your motorcycle's braking system. Without it, nothing happens when you push on the brake lever coming into that hard right-hand corner. With the rear brake reservoir exposed on the BMW R1200GS, it is far too easy to tamper with or damage while riding. This easy to install guard from Touratech will keep your rear brake fluid reservoir safe from damage or curious hands, making sure your rear brake pedal is there when you need it.
Protects rear brake fluid reservoir from damage and tampering
Made of silver anodized aluminum
Simple 1-bolt installation
Fits BMW R1200GS Water Cooled models only 2013-on
Made in Germany by Touratech