ฝากันกระแทกสำหรับชุดเพลาขับ


ของชิ้นเล็กๆ ที่จะช่วยป้องกันความเสียหายใหญ่ๆ!
สิ่งที่น่าเสียดายที่สุดอย่างหนึ่งเกี่ยวกับตัวเรือนเพลาขับของ R 1200 GS ก็คือ การเป็นชิ้นส่วนที่เกิดรอยขูดขีดและความเสียหายอื่นๆ ได้ง่ายมาก แม้ว่าจะเป็นแค่อุบัติเหตุมอเตอร์ไซค์ล้มขณะจอดอยู่เฉยๆ ก็ตาม และถ้าเกิดเหตุการณ์นี้ในระหว่างการขี่ เศษหินและสิ่งสกปรกต่างๆ ก็อาจจจะหลุดเข้าไปภายใน ทำให้เกิดความเสียหายต่อซีลเพลาหลัง หรือแม้แต่ทำให้น้ำมันเพลารั่วออกมา ส่งผลให้การเดินทางของคุณต้องสิ้นสุดลงที่ตรงนั้น
ฝากันกระแทกรูปทรงสวยงามและทนทานชิ้นนี้สามารถป้องกันอันตรายเหล่านี้ได้ รวมทั้ง ยังช่วยป้องกันไม่ให้คุณต้องเสียเงินมากมายไปกับการซ่อมอีกด้วย!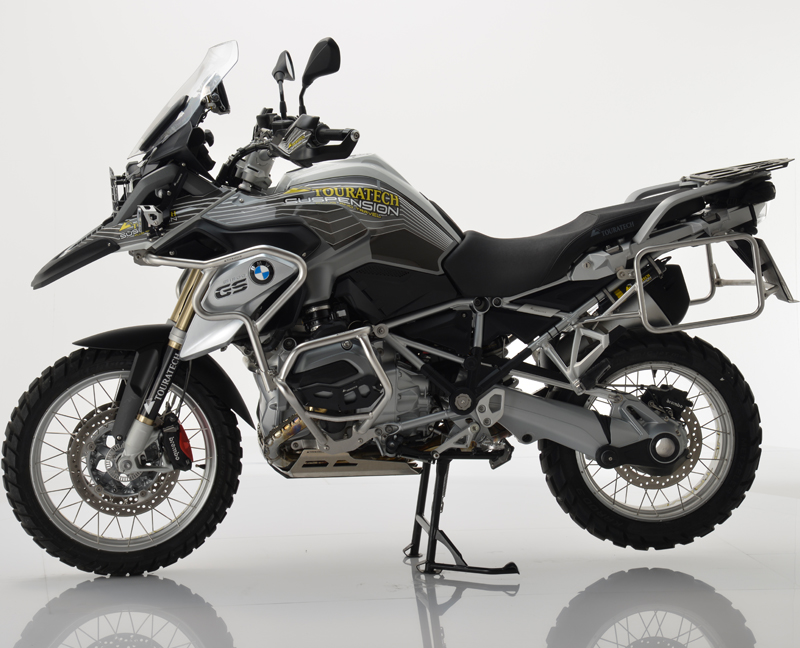 A little item that prevents big damage!
Sadly, the cardan housing of your R1200GS can suffer serious scratching and other damage even if it just falls over when stationary. If such a mishap occurs off-road, scree and dirt can even damage the rear axle seal, and in the worst case leaking oil can prevent you from travelling further.
Fitting this highly resilient, beautifully shaped crash bung in time can eliminate this danger - and prevent the expensive consequences!
Optional: cardan guard 01-045-5500-0
- easy to fit and highly durable
- material mix of high-strength aluminium and resilient PE
- beautifully shaped, sporty design with a textured surface
- slightly angled for maximum leaning angle freedom on the road and optimum free movement off-road
- easy to remove when required
Colour: black / silver
---
BMW R1200GS Water Cooled Final Drive Slider - When riding on the street without panniers, the cast aluminum housing of your final drive and driveshaft can be at risk for serious damage during a low-side accident. Protect this critical part of your BMW GS's drive-train with an easy to install slider from Touratech. Made specifically for the liquid cooled R1200GS, this slider or 'crash bung' creates a barrier between the pavement and your driveshaft in the event of a slide, as well as absorb any extra force with its plastic bumper.

The slider installs in just a few minutes.
Absorbs impact, protecting your motorcycle's driveline
Easy installation
Made of High Strength PE plastic and machined aluminum
Fits BMW R1200GS Water Cooled models 2013-on
Made in Germany by Touratech