Let's add some colour!
Even people who don't necessarily want a tank bag in the traditional black, but prefer something in a fresh, sporty colour combination to catch the eye, will see that we have just what they are looking for!
Our "Ambato Exp Rallye" offers the excellent features and quality of the Ambato Exp- tank bags in an exciting combination of exclusive colours and materials.

Black or colour? Not an easy decision to make, so we'll leave it to your personal taste!
● Vehicle-specific, precisely fitting base plate for secure, play-free attachment to the bike
● Insert panels made from strong waterproof tarpaulin
● The material that we use is not plain nylon – it is certified Cordura fabric, made in Germany, as also used for protective motorcycle clothing and expedition equipment
● Sturdy body and top made from high-quality, water-resistant and abrasion-resistant 1100 dtex Cordura
● Outer pockets and inserts made from 560 dtex Cordura
● Waterproof coating on inside of fabric
● Fluorocarbon impregnation and Teflon coating by DuPont using nanotechnology for protection against moisture, dirt, oil and fading
● Washable and easy to clean
● The fabric used has been tested for harmful substances and certified in accordance with OEKO-TEX Standard 100
● Reflective 3M Scotchlite panels for maximum visibility
● Strong, ergonomic carry handle for practical transportation away from the bike
● All-round zip for easy expansion
● Made for extreme loads and built to last
● Perfect fit
● Inner pocket with Velcro closure in top cover for maps, documents etc.
● Organiser with small inner pocket inside the top cover for toll cards, credit cards and loops for pens or a small torch
● Quick-release plastic buckles on the front
● Large, strong and secure Velcro fastener on the back
● Securely attached but can be quickly taken off the bike
● Map pocket with Velcro fastener and large opening included
● Carry straps for use as a shoulder bag or rucksack are included
● Low-weight bag with high carrying capacity and large usable volume
● Water-resistant, high-quality zips
● Reflective quick-release elastic straps for quickly stowing gloves or a rain jacket
● Waterproof inner bags available separately
● The special design of the side pockets means no additional "horn guards" are needed
● Practical, spacious side pockets with generous expansion flap
● Large main compartment without extra subdivisions provides maximum space for individual loading
● Water-resistant cable grommet for a charging cable or other power supply
● Unobstructed view of instruments and fitted navigation devices
● Appealing, exclusive blend of materials with a refreshing design
● All luggage systems are carefully hand-crafted in Germany
● No troublesome improvisation with poorly fitting "universal" attachment kits – these luggage systems are developed specifically for each motorbike and we test the mountings as well as the durability of each product
Please note: Use paint protection film if necessary!
(Item number 01-101-0100-0)
Size: (L x W x H) approx. 37 x 27 x 22/32 cm
Volume: approx. 13/18 litres
Colour: black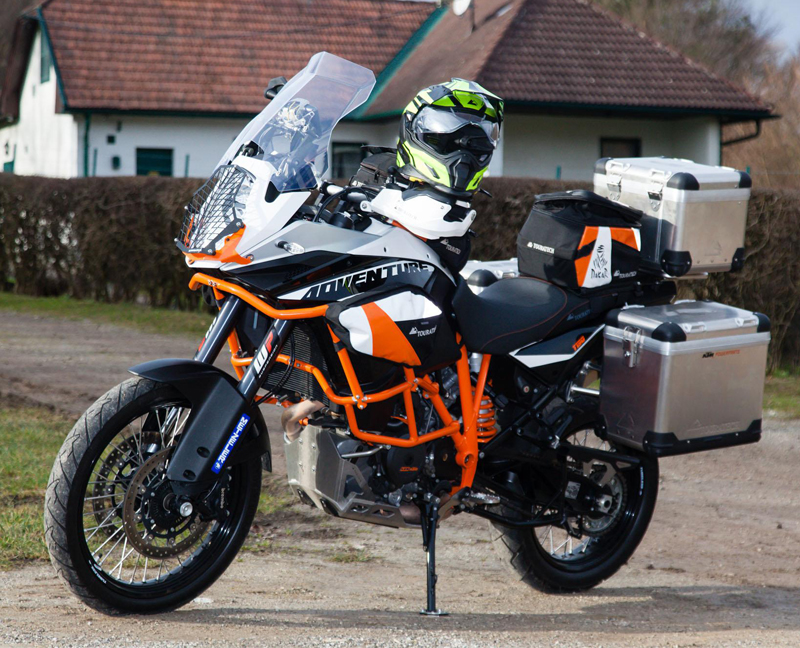 ---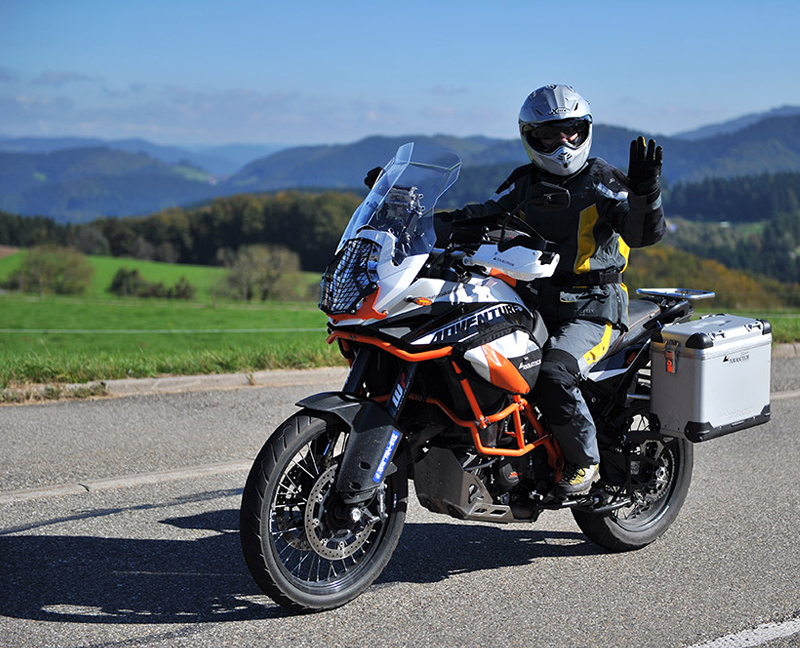 Touratech Expandable Touring Tankbag for KTM 1190 Adventure & R

A generic fit tank bag just doesn't belong on a refined machine like the KTM 1190 Adventure. The unique shape of the 1190's tank requires a tank bag that fits properly to keep the bag from sliding around and distracting the rider. Touratech offers the highest quality and best fitting tank bag designed specifically for your KTM 1190 Adventure or Adventure R. Hand-made in the black forest of Germany, Touratech tank bags are packed with features designed by riders for riders, specifically with adventure motorcycle touring in mind.
With your KTM 1190's panniers and topcase filled with all the camping necessities, it's also great to have a place for quick-access items like maps, sunglasses, wallets, and cameras. Tankbags fill this role perfectly, giving you an up-front storage solution for all your personal items, and a good place to display a map while riding. Touratech expandable touring tankbags are handcrafted in the Black Forest of Germany out of the finest materials, and boast a long list of features, specifically for touring and adventure riding.
Custom fit for KTM 1190 Adventure / R – This tank bag is designed specifically for the KTM 1190. Other 'universal' off the shelf tank bags will shift while riding, causing distraction. Because of the specific shape, Touratech tank bags require less mounting material to hold in place, making them easier to remove for fueling.
High quality Cordura material – Our touring tank bags are made only out of the highest quality materials. Unlike the other manufactures that use standard Nylon, Touratech uses only premium Cordura materials. The certified Cordura fabric, made in Germany, is the same material used in high-end riding suits and is tough and highly abrasion resistant. The Cordura is also treated with a special Teflon coating to protect against dust, moisture, and fading.
Expandable capacity – Packed to capacity, but still need a little extra room to take dinner back to camp? The Touratech expandable tank bag features an expansion zipper that extends your capacity from 13 to 18 liters in seconds.
Large removable mapcase – If you're tired of ruining your maps by folding them into all sorts of unique shapes to fit in your tankbag, our tank bag is for you. The large removable mapcase is a standard rectangle shape and allows you to display more of your map while riding.
External pockets and storage options – Two external pockets give you quick and convenient places to store your wallet, change for toll roads, or other small items. The reflective bungee net is perfect for stashing your gloves during fuel stops or border crossings.
Electronics cable pass-through – The front of the tankbag features a water-resistant cable pass-through so you can charge your phone, camera, or other electronic devices while in the safety of your bag.
Convenient, even off the bike - The Touratech tank bag is convenient even when used off the motorcycle. A large rubberized carry handle makes it comfortable to carry as a hand-bag, and the included straps quickly transform the tank bag into a backpack for hiking and exploring.
Whether it's a 'round the world adventure or a simple day trip, a Touratech tank bag is the perfect companion for your journey.
The tank bag is water and dust resistant. To fully protect its contents from rain, consider adding our waterproof rain cover, part number 01-055-0069-0.
Expandable capacity from 13 to 18 liters
Dimensions (approx): 14.5 x 10.6 x 8.6 / 12.6 (expanded)
Waterproof rain cover available separately ( part # 01-055-0069-0)
Black or Orange side panel color options available
Fits KTM 1190 Adventure & ADV R models
Made of Teflon Coated Cordura
Water and dust resistant
Made in Germany by KAHEDO