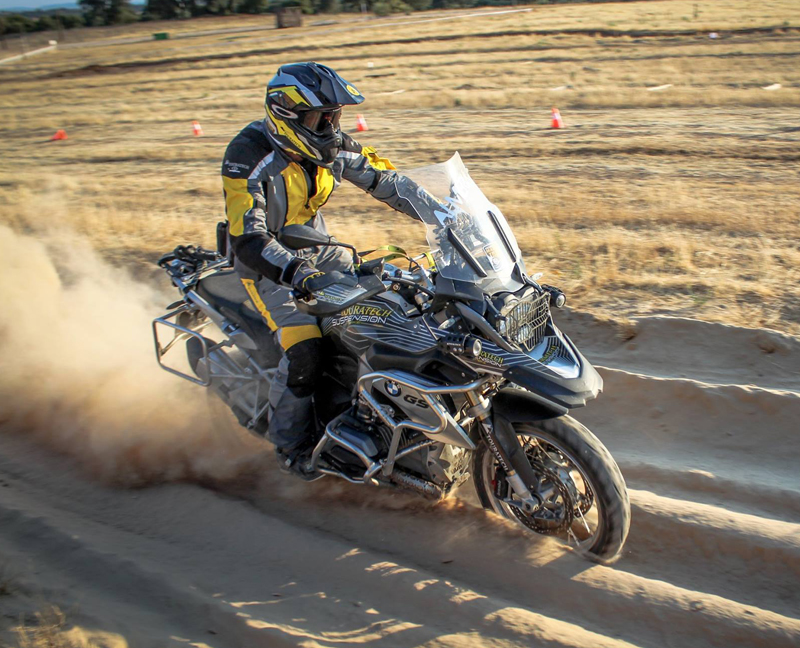 The Touratech Suspension DDA / Plug & Travel suspension set is an absolutely top class suspension system for your BMW R1200GS(LC)/R1250GS equipped with the BMW DDC system. This premium suspension system is systematically designed for long-distance touring with lots of luggage, on any type of road surface and even off-road. Touratech Suspension DDA / Plug & Travel shock absorbers simply replace the BMW DDC shocks. The existing plug connectors and switches on the handlebar are retained and used as usual. As a result, the Touratech suspension system becomes an integral part of the motorcycle via the original BMW control unit. You can continue to use the various riding mode and load setting configurations on the BMW display. The Touratech suspension system that adapts itself to the adventurer inside you so all you have to do is ride!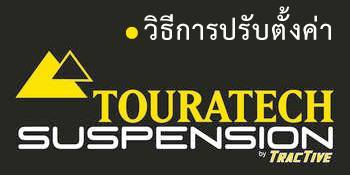 This
Touratech Suspension DDA / Plug & Travel suspension system
is manufactured using the same precision components and parts that have been tried-and-tested in our shock absorbers over thousands of miles of touring, under the most intense conditions.
At the heart of this suspension system is the high-performance DDA valve, developed and patented by Tractive.
It allows the damping to adjust in fractions of a second to any riding situation. To withstand the rigours of long-distance touring, our shock absorbers have a larger piston diameter, which means a larger oil capacity. This enables better cooling with a high damping frequency. As a result, the shock absorber and damping are more stable and there is less stress on the seals.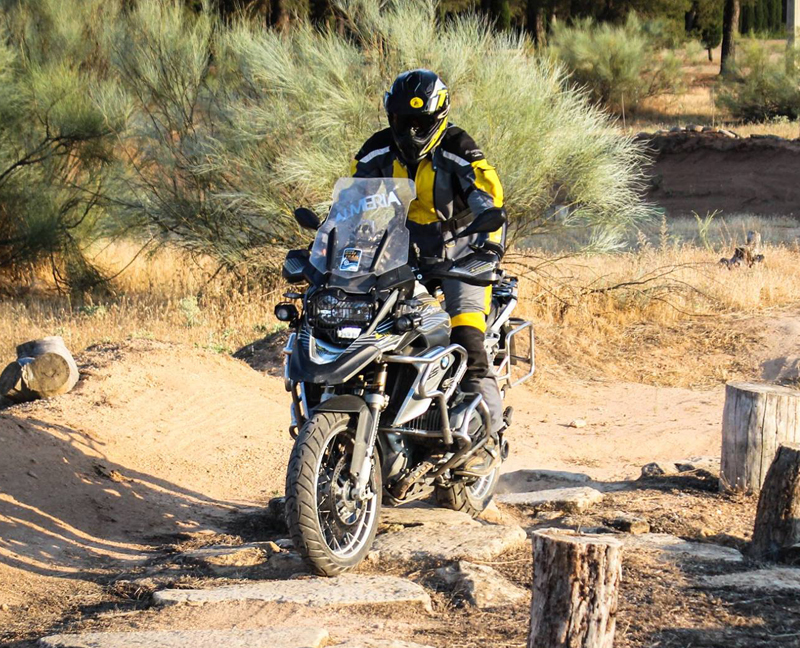 What's included:
- Touratech Suspension DDA Plug & Travel front shock absorber
- Touratech Suspension DDA Plug & Travel rear shock absorber
- Ready to fit with plug connector and wiring
The basic setup fitted here is designed for riders up to 100 kg including luggage.
Modifications are possible for a heavier rider (more than 100 kg) and/or if the bike is usually ridden with a passenger / with luggage. In this case, we individually modify the shock absorber to meet your needs by fitting a spring with a higher spring rate.
If you have any further questions,
we will be happy to advise you. Contact us.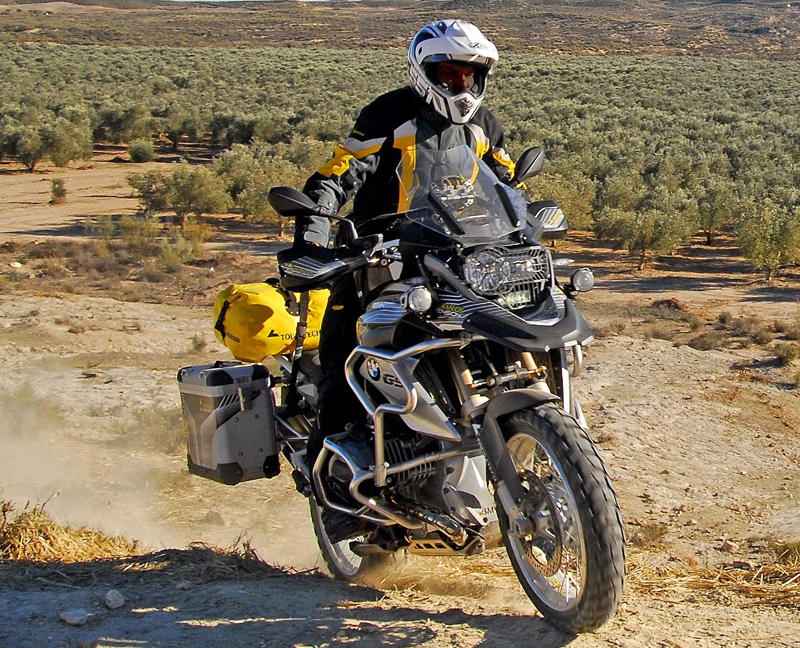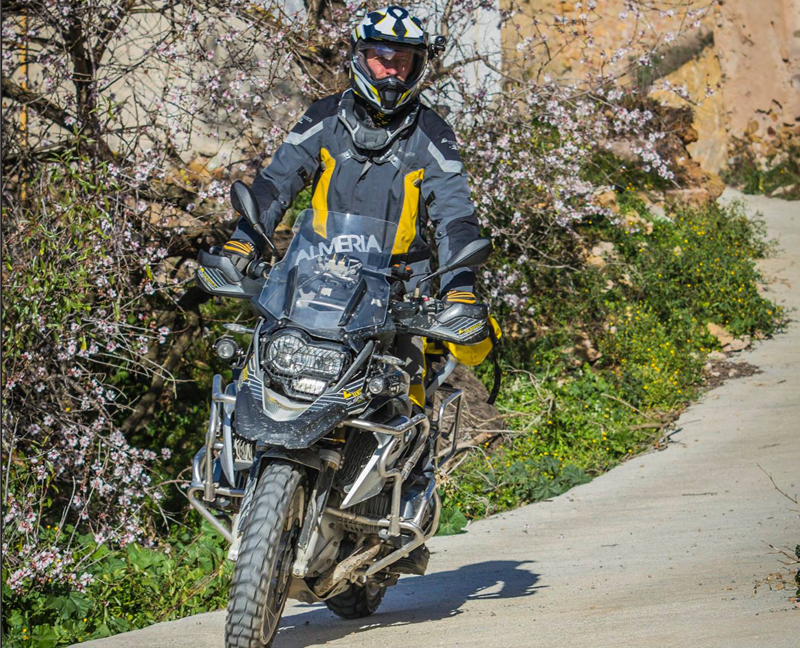 If your current suspension feels spongy, worn out, too soft, or just not up to the task, it's time to replace your shocks with Touratech Plug & Travel Dynamic suspension. Upgrading your suspension is the single biggest improvement you can make to your R1200GS or Adventure. The world's first plug & play suspension system for the water cooled R1200GS or ADV with dynamic suspension, Touratech Plug & Travel fully integrates into the stock wiring system, giving you all the same controls and adjustments you've grown to love. On top of that, Touratech suspension adds high and low speed compression damping adjustment along with many other features that will ensure your suspension takes you the distance no matter what the load or terrain.
This shock set is available in both a standard height and a low version which drops the seat on the standard R1200GS (non-Adventure) by 2 inches. Use the drop down menu to select the standard or low version.
Why do I need this?
Motorcycle Manufacturer's Shocks - The shocks found on new motorcycles are designed to be inexpensive and fit the needs of the average 170lb rider with 15lbs of luggage. As a result, they often meet the minimum standard for function. The performance of a stock shock is typically not confidence inspiring. With heavy loads, stock suspension "bottoms out" easily and doesn't offer sufficient preload or damping adjustment range. They aren't serviceable and, with heavy loads, are prone to blown-out seals and other failures. The rider often feels that the bike is too spongy and doesn't handle properly. The OEM dynamic suspension found on the R1200GS water cooled uses a valving system designed for automotive shocks, and is not reactive enough to give a motorcycle the traction and comfort it needs.
Aftermarket Shocks - Most after-market shocks are made with performance riding in mind, but aren't built for use on a fully-loaded touring bike. Most can only withstand the weight of the rider and don't offer good handling, or have adequate preload adjustment. They also aren't durable enough to go the distance with a fully-loaded touring bike. Touratech Plug & Travel DDA shocks are fully compatible with the BMW's complex computer system. You won't have to worry about splicing wires or error codes with Touratech Suspension.
Key Features:
Semi-Active, Dynamic Damping - Damping characteristics change in real-time as your riding conditions and speed change to give you the most accurate damping settings for your current situation in miliseconds.
Motorcycle-Specific Valve - The OEM shock utilizes an automotive valve style that is much too slow and requires too much movement to activate. The Touratech shock features the first of its kind, patented, motorcycle-specific valve that can react quickly to even the smallest changes in motion; perfect for an adventure motorcycle.
Plug & Play - Fully compatible with stock controls and ride modes on your water-cooled BMW R1200GS & GSA with Dynamic suspension. Simply replace your original shock with the Touratech Plug & Travel, plug the connectors into the factory wiring, and away you go.
Large Piston Diameter - Over-sized 46mm damping piston for cooler temperatures and reliable performance. Compared to the stock 36mm piston, ours can more effeciently reduce workload and operating temperatures.
Remote Reservoir – The Touratech Dynamic shock features 30% more front, and 60% more rear reservoir capacity than the stock BMW suspension. This piggy-back style remote reservoir, made from high-strength aluminum, is designed to keep the fluid cool and ensures pressure stability in the shock which results in better performance. The increased oil capacity results in longer shock life.
Adjustable high-speed and low-speed damping – Separate adjustments for high-speed and low-speed compression damping allow absolute control of shock tuning to give you the precise handling characteristics you want in any conditions. This allows you to control how the bike handles in a high speed corner separately from how it behaves absorbing a pothole.
Floating Piston Superiority – Touratech Suspension uses a Floating Piston design which offers the best damping performance because it physically separates the nitrogen gas from the oil. Most shocks use oil emulsion damping which allows oil to mix with the nitrogen gas in a foaming process that basically 'thins' the oil and prevents the shock from working properly. When the oil is 'foamed' the bike bottoms easily and also springs up too quickly resulting in erratic handling and an unsteady ride.
With the floating piston design of Touratech Suspension there is a physical separation of oil and nitrogen gas which means you can ride rough roads all day long and enjoy consistent high performance. Why buy a shock whose performance gets worse the harder you ride it? Before you invest in new suspension for your R1200GS, make sure it's a floating piston design.
Stainless Steel Bushings - While many shocks use aluminum bushings where the shock mounts to the motorcycle, Touratech Suspension uses high-strength, non-corrosive stainless steel. This creates a strong and rigid connection which is important for loaded touring motorcycles. The stainless steel bushings protect against corrosion and seizing and offer low maintenance and longer life.
Low-Friction Seal – Our seals have a backbone that virtually eliminates friction interference on the damping activity. On other shocks, the seal deforms as damping pressure increases and causes stiction on the shaft. Touratech Suspension is equipped with a proprietary low-friction seal that is supported by Teflon back-up ring. This Teflon backbone keeps the seal from deforming and eliminates stiction on the shaft even at high pressures. The result is better performance, increased reliability and longer service life, even in harsh environments.
Oversized high-strength shaft – Touratech suspension uses a 16mm high-strength chrome-moly steel alloy.
Aluminum Shock Body – Some manufacturers use a steel shock body to reduce cost. Touratech suspension uses cold-forged 6082 T6 aluminum for the shock body because it's lightweight, strong and durable. It also dissipates heat 30% more effectively than steel, which results in more stable and predictable damping delivering better handling and a smoother ride. A cooler shock will also have more consistent damping and a longer service life.
Custom Springs – Touratech Suspension is available in a range of spring rates so we can ensure your shock has the proper spring rate for your application.
Fully Serviceable – All Touratech Suspension is fully serviceable and can be customized or re-built by Touratech-USA or any qualified suspension technician.
Comparison Chart Between OEM BMW Suspension and Touratech Plug & Travel Dynamic Suspension:
Please see our Sag Setting Tutorial, and Shock Adjustment Tutorial on the Touratech blog to learn how to tune your shocks for the best comfort and performance.