A robust and nicely designed aluminium case that handles all assignments, ranging from everyday to adventure, with flying colours. The ZEGA Mundo follows the tradition of the legendary ZEGA Case.

With the ZEGA Mundo case system, we offer you a luggage solution for extreme applications backed by 25 year's of experience and thousands of test kilometres. Our ZEGA case systems are designed and adapted to the specific type of motorcycle and manufactured in Niedereschach, Germany, after thorough quality checks.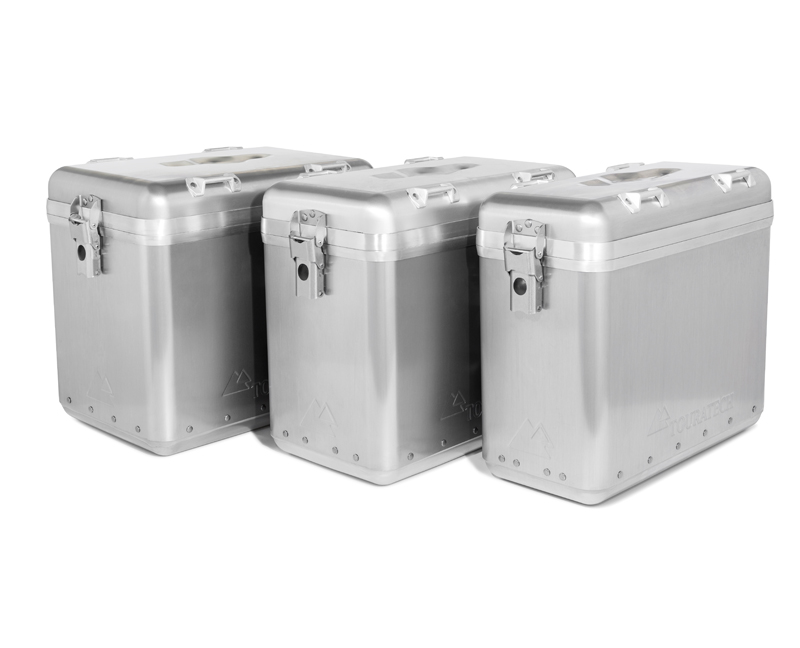 Benefits at a glance:
● waterproof, dust-proof and high quality manufacturing
● lightweight yet robust construction
● developed specifically for your motorcycle model
● pannier frame is screwed to existing mounting points
● quick installation
● absolutely backlash-free mounting of cases, even after thousands of kilometres on the track
● designed for extreme use
● elegant integration into overall look
● automatic locking prevents accidental opening of the locks
● compatible with ZEGA accessories

In addition to the ZEGA Pro and the ZEGA Pro2 case systems we, of course, also offer the ZEGA Mundo case systems specifically for your motorcycle. The reasons in favour of this system are as varied as our customers. Some appreciate the authentic, clear look of the legendary ZEGA cases reflected by the ZEGA Mundo. For others, the ZEGA Mundo case system is the entry level to high quality hard luggage solutions. Common to them all, is their desire to have a case system which fits the corresponding type of motorcycle, is of premium quality manufacturing and which operates free of problems even under duress.
Of course, we also made sure that our ZEGA Pro case accessories are also compatible with the ZEGA Mundo. As all our products are standardised, it is possible to interchange individual parts without difficulty. You can also extend this system for different uses by adding ZEGA Mundo cases of other sizes as well as ZEGA Pro or ZEGA Pro2 cases.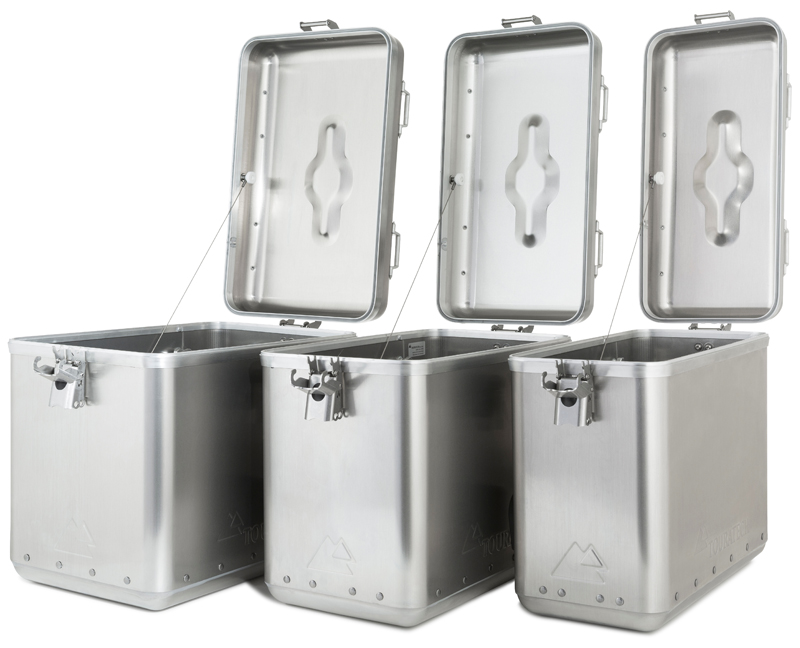 Cases:
● body made of 1.5 mm thick aluminium
● designed for extreme use
● available with 31, 38 or 45 litres volume
● proven high quality, lockable stainless steel fittings
● ergonomically designed mounting wheels inside the cases
● tight and warp-resistant
● backlash-free fit, even after thousands of kilometres on the track
● quick installation
● automatic locking prevents accidental opening of the locks
● built-in locks can be retrofitted easily
● compatible with ZEGA accessories
● made in EU

The development of the ZEGA Mundo focused one hundred percent on pure functionality. Practical suitability, robustness and technically clean design are all united in this aluminium case.
To obtain joins with maximum strength, the indestructible body is made of 1.5 mm thick aluminium sheeting and joined to the base, which is drawn from a single piece of aluminium, with special rivets. This concept conveys the case with a solid plus in terms of rigidity. In addition, an integrated very generously dimensioned sealing band provides optimal tightness of the seam.
The same applies to the specially formed profile which forms the upper part of the case body. It reinforces the case and the integrated sealing lip, which fits the lid profile with absolute precision, ensures completely weatherproof closure.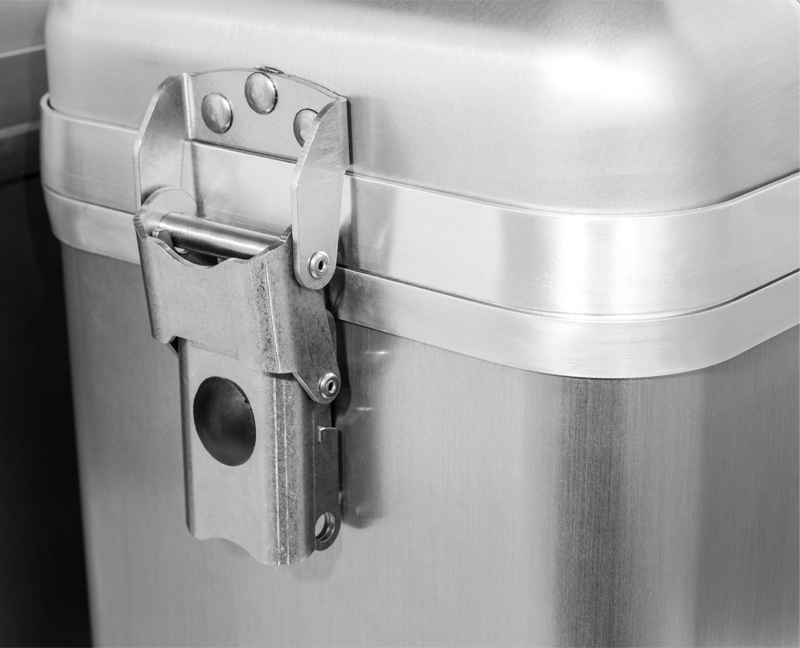 Pannier frame:
● made of stainless steel 18 mm round tube
● additional cross-bar for greater stability
● suitable for tough off-road use
● also suitable for all ZEGA Pro and ZEGA Pro2 cases
● uses existing mounting points
● absolutely suitable for passengers
● elegant integration into overall look
● overall width: 99 cm

Our pannier frames are made of robust 18 mm stainless steel round tube and thus guarantee extremely high stability, even off the beaten tracks. An additional cross-bar provides greater stability which also makes the case system suitable for tough off-road use. As the pannier frame utilises existing mounting points, installation is child's play.
And, of course, we took care to ensure that the pannier frame is as practical for a round the world trip as it is for everyday routine. Which is why we ensured absolute passenger suitability.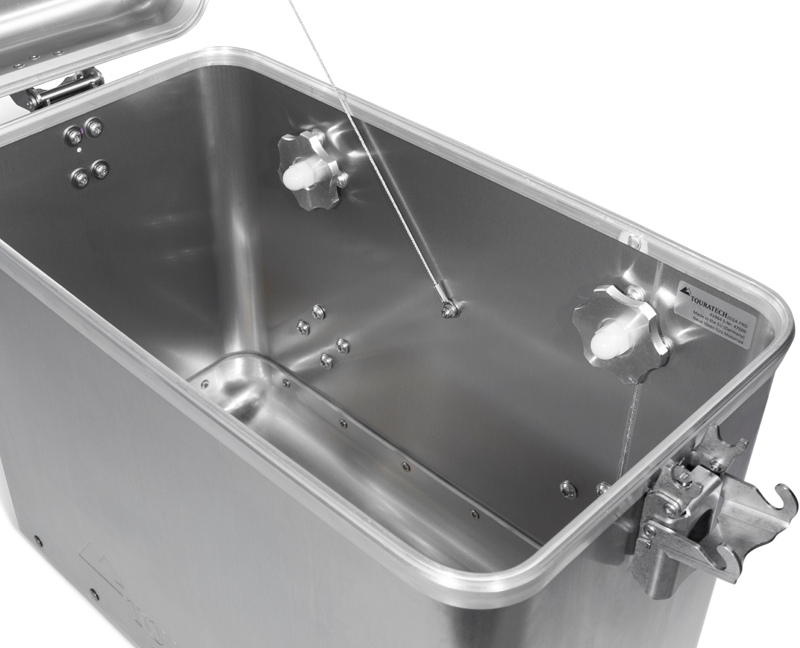 Delivery schedule of the system:
● 2 x aluminium pannier ZEGA Mundo 31 litres
● 1 x pannier rack black including mounting hardware



Zega Mundo Pannier System for Ducati Multistrada 1200

The Zega Mundo™ Pannier System is a simple, rugged and reliable luggage solution that keeps your gear dry and secure. The straightforward, no frills, aluminum Zega Mundo™ Panniers will take everything you can throw at them, but won't break the bank.
Using the same latch and mounting system found on the popular Zega Pro™ panniers, the Zega Mundo™ allows easy access to your gear with a lid that hinges on either side or can be removed all together. The straight sides and rectangular shape make packing and unloading a snap. The boxes are secured to the stainless steel racks with a robust puck and clamp system that provides an incredibly strong connection while still allowing the box to be removed with ease.
The extruded aluminum sealing edge has a deep groove with a silicone seal creating a waterproof, dust-proof and structurally sound seal. The minimalist, bare-aluminum design has a clean and stylish look, while retaining the toughness required for adventure motorcycle touring.
Manufactured using cutting-edge technology, the body features rounded lines and a modern feel. Low profile anchor loops are located on the rounded edges of the pannier lid providing a flat surface to use as a table or a seat at the campfire. Built from 1.5mm aluminum and stainless steel rivet construction these sturdy panniers are available in 31 and 38 and 45 liter sizes.
There are many luggage options on the market, but only a few have the quality and performance to bear the Touratech name. You can trust your adventure to Zega Mundo™.
Zega Mundo™ Panniers are so versatile they can even be used as a drum set. Check out the video here:
Technical Specs and Engineering Details:
Structure: The Touratech mounting system is the strongest in the industry. German-built 18mm diameter tube racks with 2mm thick sidewalls form a rectangular "hoop" on both sides of the bike to support the panniers. The innovative cross-braced rack system bolts directly to the motorcycle sub-frame transferring the pannier load directly to the bike's chassis. Mounting systems from other manufacturers might look good when the boxes are off the bike, but they compromise safety and reliability that can result in critical failures.
Zega Mundo™ pannier racks for the Ducati Multistrada 1200 are available in electro-polished stainless steel or black powder coated stainless steel.
Easy Removal: Touratech Zega Mundo™ panniers attach to the steel mounting racks using heavy-duty composite and steel mounting brackets in four locations. This design offers a very secure fitting and can be quickly released to take the boxes off.
Waterproof: All Touratech panniers have a deep groove aluminum interface with silicone seal. This provides dust proof and waterproof storage even in driving rain or a river crossing.
Dual-function latch: This latch allows quick access by releasing one side while the other functions as a hinge. Release both latches for complete lid removal which makes for easy packing. The lid can also be used as a utility tray when camping or keeping track of parts during a field repair on your motorcycle.
Security: A hidden spring loaded safety tab ensures that the lid stays closed and its discrete location enhances security. Add a set of optional Integral Locks to each pannier for even more security. Click HERE to watch a video of the lock installation process.
Dimensions: The overall width of the Ducati Multistrada 1200 31/31 liter system is 35 inches or 38 inches for the 38/38 liter system. The high ground clearance of the boxes allow you to negotiate sections of deep sand or ruts. On the road, it provides clearance for cornering at speed.
Complete set with panniers, rack, and mounting hardware
Available in bare aluminum finish (for anodized panniers check our Zega Pro Pannier System)
Available in 31, 38 & 45 liter sizes
Easy installation
Made in Germany by Touratech
Panniers made from 1.5mm aluminum with stainless steel rivet construction
Electro-polished or powder coated black stainless steel racks