กระเป๋าข้าง ENDURANCE Click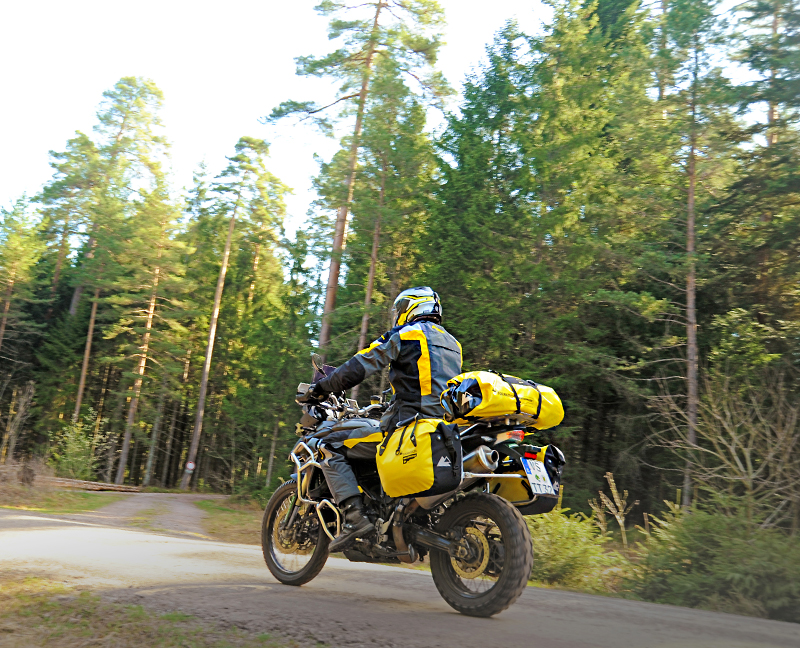 ติดตั้งและถอดง่าย ขนาดกำลังดี ไม่เพียงแต่นักขับขี่ออฟโรครอบโลกเท่านั้น ที่กำลังมองหา กระเป๋าข้างที่มีน้ำหนักเบามาก และออกแบบมาให้ติดตั้งได้กับแรคทุกยี่ห้อ
กระเป๋าข้าง ENDURANCE Click เป็นอีกหนึ่งทางเลือก นอกจากกระเป๋าอลูมิเนียม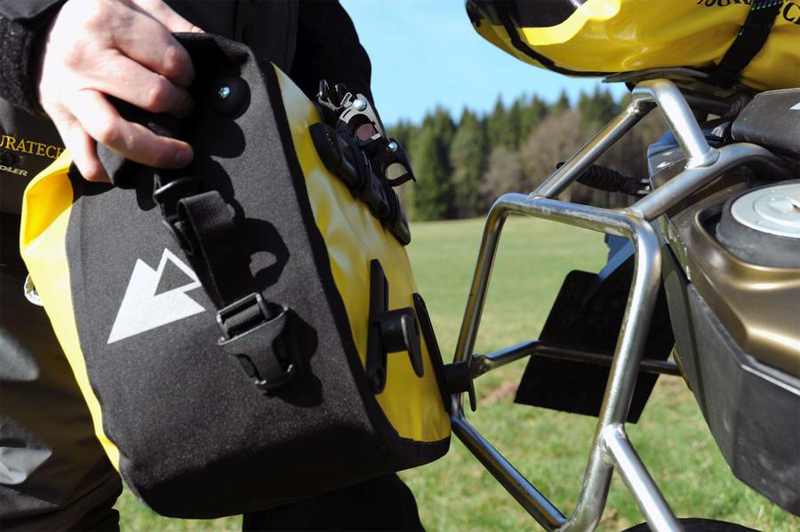 มีน้ำหนักเบากว่ากระเป๋าพลาสติก
แต่มีความแข็งแรง ทนทาน เมื่อหล่นกระแทกพื้น ป้องกันน้ำและฝุ่นมาตรฐาน IP64 มีความจุขนาด 28 ลิตร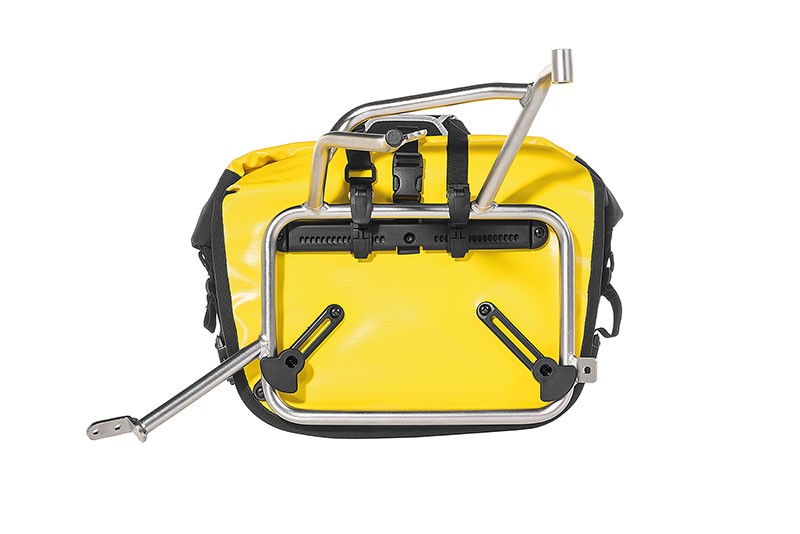 สามารถติดตั้งได้กับแรคทุกประเภท ด้วยระบบล็อตอัติโนมัติ สามารถปรับตำแหน่งตัวล็อตได้ สามารถใช้ได้กับแรคทุกประเภท ที่มีขนาดเส้นผ่าศูนย์กลาง 18 มม.
ถ้าแรคของท่านมีขนาดที่แตกต่างไป นั่นไม่ใช่ปัญหา ด้วยชุดอุปกรณ์เสริม ช่วยให้สามารถติดตั้งกับแรคที่มีขนาดแตกต่างกันออกไปอีกด้วย
ด้วยระบบล็อตที่พัฒนาขึ้นมาเป็นพิเศษ ช่วยให้กระเป๋ายึดแน่นกับแรค ตลอดการเดินทาง หากต้องการถอดกระเป๋า เพียงแค่ใช้มือยกหูหิ้วกระเป๋าขึ้น ก็สามารถปลดล็อตกระเป๋าจากแรคได้อย่างสะดวก รวดเร็ว โดยไม่ต้องใช้สายรัดให้ยุ่งยาก
ฟังก์ชั่นกระเป๋า ENDURANCE Click
ผลิตจากวัสดุที่ทนต่อการเสียดสี ป้องกันน้ำและฝุ่น และยังสวยงามทำความสะอาดอีกด้วย ไม่ว่าการขับขี่แบบออฟโรค หรือใช้งานในชีวิตประจำวัน กระเป๋าใบนี้สามารถป้องกันน้ำและฝุ่นได้ 100 % มาพร้อมหูหิ้วที่คุณสามารถถือได้ไปทุกที่ ด้านในกระเป๋ายังมีช่องสำหรับใส่ของแยกเป็นส่วนๆ ไม่ว่าคุณจะเดินทางไปท่องเที่ยวหรือไปทำธุระ กระเป๋าใบนี้ก็สามารถตอบสนองได้ทุกความต้องการ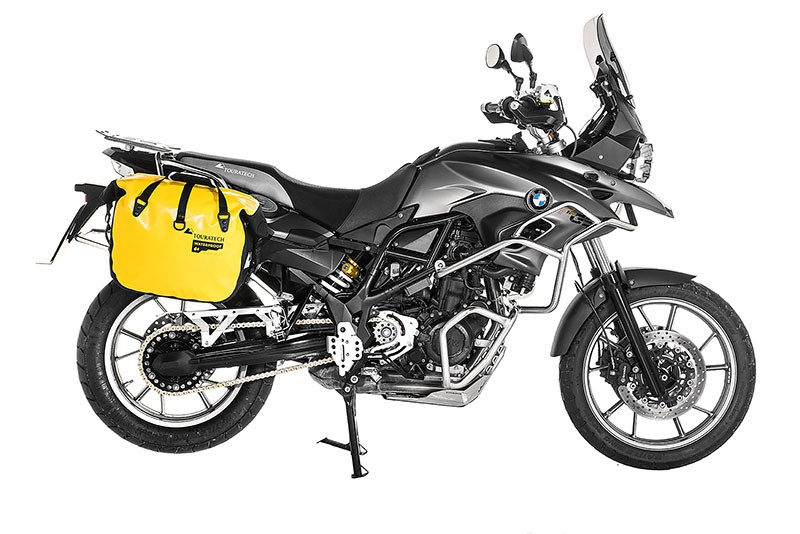 Touratech ออกแบบให้มีแถบสะท้อนแสง 3M Scotchlite ทั้ง 2 ด้าน เพิ่มความปลอดภัยในการขับขี่
และสามารถทำความสะอาดได้อย่างดาย ให้คุณสนุกกับทุกการขับขี่ ไม่ต้องกลัวเปื้อน
คุณสมบัติพิเศษ
ระบบล็อตอัตโนมัติ ใช้ได้กับแรคทุกประเภท ที่มีขนาดเส้นผ่าศูนย์กลาง 18 มม. (Touratech, BMW, Ducati, Givi, ฯลฯ)
ป้องกันน้ำและฝุ่น มาตรฐาน IP64
เหมาะสำหรับการขับขี่ออฟโรค ไม่บุบ ไม่แตก ไม่ทำอันตรายแก่ผู้ขับขี่ ในกรณีเกิดอุบัติเหตุ
มีให้เลือก 5 สี
เป็นทางเลือกสำหรับการใช้งานประจำวัน
ช่องใส่ของในกระเป๋า
แถบสะท้อนแสง 3M Scotchlite ทั้ง 2 ด้าน
ทำความสะอาดง่าย
ชุดอุปกรณ์เสริม สำหรับติดตั้งกับแรคที่มีขนาดแตกต่างกัน
เราขอแนะนำให้ติดตั้งห่างจากท่อไอเสีย 10 ซม. ขึ้นไป
ความสูง : 31 ซม.
ความกว้าง : 43 ซม.
ความยาว : 18 ซม.
น้ำหนัก : 1470 กรัม
ความจุ : 28 ลิตร
มีให้เลือก 5สี 1.สีเหลือง / 2.สีดำ / 3.สีน้ำเงิน/ 4.สีส้ม/ 5.สีแดง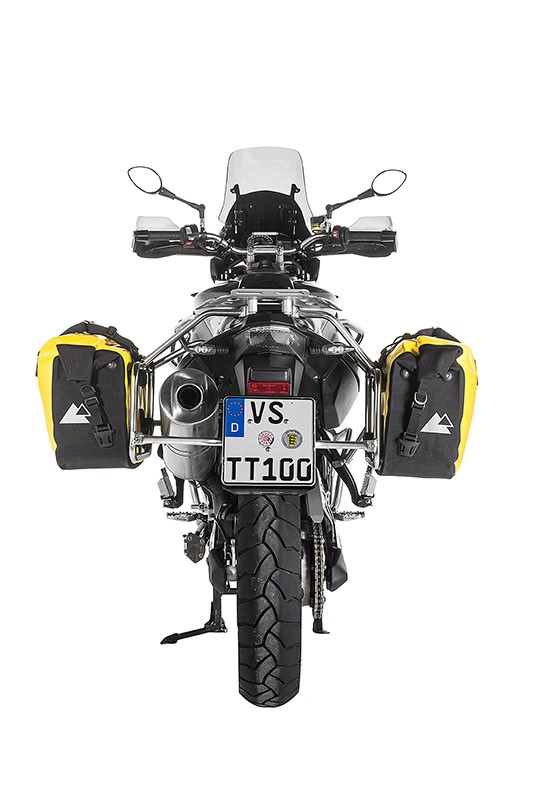 ---



Quick on - quick off and just the right size! It's not just off-road riders world-wide who have been waiting for this: A super lightweight and waterproof soft luggage system for all common luggage racks.

The Side bag ENDURANCE Click is the first real alternative to aluminium cases. It is lighter than any plastic case, yet durable enough to survive a fall and completely waterproof (IP64). With a capacity of around 28 litres it can accommodate a lot! Thanks to the automatically locking fixture system the bag is easy to use and adapts to any standard bike rack with 18 mm tube diameter. If your luggage rack is a different size, that is no problem at all. With our optional kits you can fit your new bag to your existing luggage rack.

Thanks to the innovative locking system, your bag is firmly attached to the luggage rack of your motorbike while you're travelling. By simply lifting the bag by the handle, it automatically unlocks and can be removed from your motorbike without any complicated undoing of straps.