Highly practical goggle attachment to the Enduro helmet. Simply replace the goggle strap by the flexible Quick Straps. The goggles are firmly clicked into the helmet on the left and affixed variably on the right by means of a stable Velcro fastener. You can therefore easily "put on and take off" your goggles within a few seconds, even when you are on the move. Absolutely fantastic for glasses wearers for fast ventilation of the optical lenses under the Enduro goggles. Perfectly matches nearly all commercially available cross-goggles.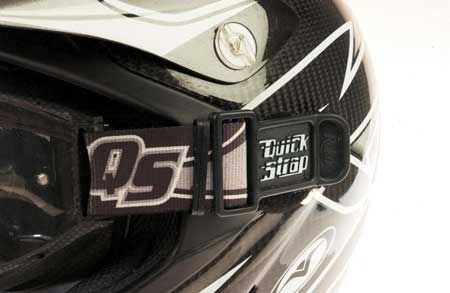 ____________________________________________________________________________
Quick Straps have long been the goggle strap of choice for enduro and off-road riders. The Quick Strap goggle mounting system replaces the original goggle straps on almost any brand of off-road goggle and allows you to remove and reattach your goggles quickly, even while riding.
The mounting kit consists of two elastic straps that attach in place of the original goggle strap and two plastic mounting pieces that firmly adhere to the sides of your helmet. Your goggles are then attached to the helmet with a sturdy plastic clip on one side, and high strength velcro on the other, making removal a breeze.
Available in Black, Blue, and White
"Remount" kits available if you own multiple helmets
Strap kit only - Helmet and Goggles not included